Three times a week, Jaime Deras wakes up around 2:30 a.m. to drive from Baton Rouge to New Orleans University Medical Center for his morning appointment.
At 5:15 a.m., he is settled into a padded chair while his blood is circulated through a dialysis machine, allowing him to get rid of excess fluid and accumulated waste.
It's trying, but Deras has no choice. He suffers from end-stage renal failure and his kidneys do not filter his blood properly. As an undocumented immigrant, he is not eligible to be placed on a transplant list in the United States or for health insurance through Medicaid or the Affordable Care Act.
For him and other immigrants, a free dialysis program at UMC has been the lifeline that does the work for their failing kidneys. No other hospital in the area offered a similar program, and without it many would die within weeks.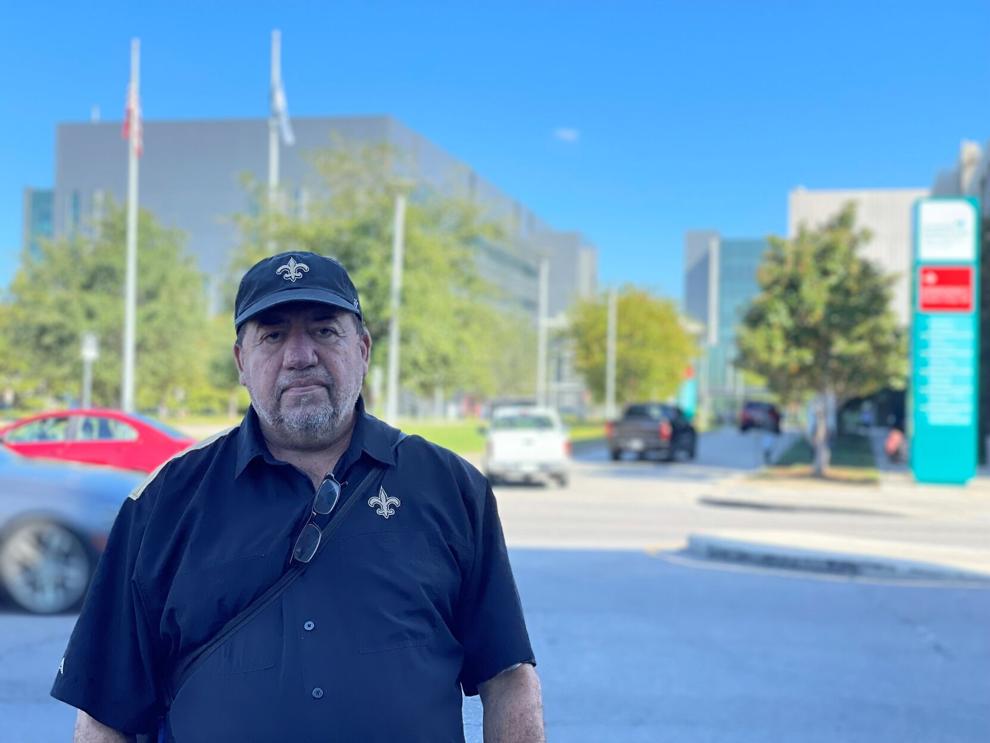 Last month, the hospital said the program would end due to contracting out issues, according to officials at UMC, a nonprofit safety-net hospital run by LCMC Health. The hospital gave patients a month's notice, sending a letter on October 18 notifying them that the service would end on November 20.
The patients met with hospital administrators last week in a conference room.
"They say we have to start looking for an alternative," said Deras, a house painter who has lived in Baton Rouge for 20 years, raising a daughter and a son. "But what alternatives do we have?"
The end of the hospital-funded program would leave a group of about 40 to 50 immigrants in a life-or-death situation. Instead of scheduling appointments for regular sessions, their only option would be the emergency room. If their blood does not show levels of toxicity high enough for emergency care, they could be discharged and asked to return when they are sicker.
Earlier this week, Deras and a handful of others fresh from their dialysis appointments stood on Tulane Avenue in a small protest. Many lived in the United States for years before knowing that their kidneys were failing, either due to genetic issues or diseases like diabetes.
"We are poor people," Deras said with a shrug as he looked around at the other nine holding signs that pleaded for continued treatment. "But we are human beings."
After the protest, a petition from UMC staff and inquiries from The Times-Picayune, UMC officials said Friday afternoon that they had updated their plans to close the clinic.
In a prepared statement, UMC CEO Emily Sedgwick said the clinic "will remain open while we identify an appropriate long-term treatment plan for this vulnerable population."
Security and outsourcing issues
The decision to cut the outpatient dialysis program for undocumented patients was one of the first actions of Sedgwick, who took charge of the hospital in August. She declined an interview request but said on Wednesday the decision was linked to security and contracting issues.
Dr. Jennifer Avegno, director of the city's health department and emergency physician at UMC, regularly sees dialysis patients who have chosen UMC because it has a history of offering dialysis. She said they knew they would get prompt care there.
"It's not something that's going to take a long time to kill you," Avegno said. "It's very short."
UMC is the only hospital in the area that offers outpatient dialysis to undocumented immigrants, and Avegno said it's part of their role as a safety-net academic medical center.
But she acknowledged the cost could be shared if other hospitals stepped in.
"I think that would be the most compassionate and humane thing for all of our hospitals," Avegno said. "I don't know if any of them are going to make it. But in the meantime, we have real lives at stake."
Waiting for symptoms
Undocumented patients can get emergency care under the Emergency Medical Treatment and Labor Act 1986, which requires hospitals to provide certain services regardless of their ability to pay. But it also means patients may not be sick enough to receive dialysis treatments three times a week, considered standard for keeping patients healthy.
"That means they have to wait for their symptoms to build up, which means they're basically on the verge of death when they show up to hospital for emergency dialysis," Dr Lilia said. Cervantes, associate professor at the University of Colorado. who studied the impact of emergency care seeking on people with kidney failure.
In a study of 181 people with end-stage kidney disease, those who could schedule regular appointments were less likely to die. In one year, 3% of people on scheduled dialysis died, compared to 17% of people who depended on emergency rooms. The scheduled group also cost about $5,800 less than the emergency group.
After five years, according to another study, the mortality rate was 14 times higher in the emergency group.
Dialysis is expensive. It costs about $3,400 a month for Medicare patients and about $10,100 for private insurers. Most citizen patients are covered by Medicare, which pays people of all ages after a short waiting period.
Because most undocumented patients cannot get insurance, hospitals are not reimbursed. And while dialysis is expensive, it is more expensive to transport patients who need frequent treatment to the emergency room.
At least 12 other states recently changed how their Medicaid offices define end-stage kidney disease to classify it as an "emergency medical condition" that could lead to serious organ dysfunction or damage. The distinction allows undocumented patients to receive scheduled dialysis in those states.
That could also be on the table for Louisiana.
"LDH is aware of the loss of critical outpatient dialysis services for this population and is exploring department options in the Louisiana Medicaid program," spokesperson Kevin Litten said in an emailed statement.
"Elementary right to life"
Deras always thought UMC was the best hospital and said he was grateful for the treatment. To receive the letter that the program he was counting on was ending was shocking.
"This review broke our hearts," Deras said.
Although he was among the protesters earlier this week, he said he didn't want to fight the hospital, he just wanted to ask them what he and others considered the 'basic right to life' .
After learning of the change in plans from UMC on Friday, Deras said he was pleased with the new decision.
"Obviously, everyone wants to live. If you have to fight for your life, you fight," Deras said. "If she makes this new good decision, we are happy with her. And grateful.

#University #Medical #Center #plans #dialysis #program #undocumented #patients